Wilhelm Hoeck 1892

We have concerns over the long-term viability of some pubs in this guide, but not this one.
Even at opening time, there always seem to be a few locals getting the day's drinking off to a good start. Dark and atmospheric, this bar looks every bit as old as its name suggests.
The musty surrounds include an enormous array of mysterious, odd-shaped spirit bottles stacked on shelves behind the bar. More bottles and some oak barrels are built into the back wall, while more pack an ornate glass cabinet high on the wall opposite the bar.
This is now two pubs for the price of one, since it opened a non-smoking restaurant next door, serving high-class German cuisine. Draught beer is poured very slowly here, as it should be, so be prepared to wait, and consider ordering your second well before you've finished your first.
Wilmersdorfer Strasse 149, Charlottenburg, wilhelm-hoeck.de
Bornholmer Hütte
This is a down-to-earth, East Berlin locals' kneipe, founded in 1911. It is probably still frequented by former border guards from the nearby Bornholmer Strasse crossing point, which was the first to be breached when the Wall came down. It remained in private hands throughout the communist era.
The decor is pure nicotine, the furnishings bare, with an impressive bar, frayed red lino flooring and a sailing ship lampshade. Our choice of beer is the consistently excellent Erdinger Weissbier Dunkel (5.6%) from Erding, just outside Munich.
This dry, wheaty and roasty creation with banana and vanilla flavours may not be the locals' choice, but it's a perfect accompaniment for the limited and simple food offerings, including boulette, potato salad, chilli, rollmop herring, Bockwurst and Knackerwurst.
Bornholmer Strasse 89, Prenzlauerberg
Max und Moritz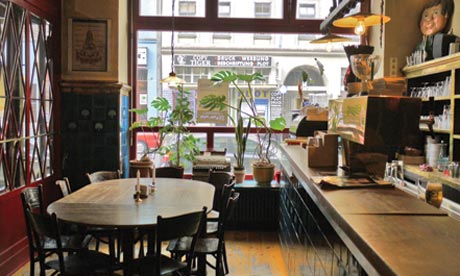 A Berlin institution named after a famous pair of cheeky storybook children immortalised by Wilhelm Busch from 1865. There is a slightly faded elegance to the place – all old oak and green enamel tiles – as if it was built for grander times.
It comes closer to capturing the decadence of end-of-Weimar Berlin, of Christopher Isherwood and Sally Bowles, than anywhere else we know. This Tardis of a pub has bags of character and just seems to go on and on. The large room at the back has a stage for live music and cabaret. Upstairs is a library, a private dining room, and even a small hotel.
The menu is packed with old Berlin specials. How about "salted and pickled pork foot with pickled cabbage, mustard and potatoes"? Or "braised, seasoned meatballs with a light cream caper sauce, boiled potatoes and salad". Flammkuchen and lamb stew are also house specialities. Our choice of beer is Barre Bräu Pils (4.8%), a rare find from Lübbecke in eastern Westphalia, a well-balanced, crystal clear, golden pilsner, with some apple-hop fruitiness.
Oranienstrasse 162, Kreuzberg, maxundmoritzberlin.de
Dicke Wirtin
Just off the north-east corner of lively Savingnyplatz, visitors are greeted by images of the Dicke Wirtin (fat hostess) herself—think Roseanne Barr meets Nora Batty, with a cigarette dangling from her mouth. This was Anna Stanscheck, an imposing lady famous for her big heart, monstrous stews and love for the students of the nearby art college. The food menu remains hearty and classic Berlin.
To this day the pub claims proudly that it has always welcomed artists, authors, actors, and other skurrilen, a word that means exactly what you think it does. The excellent draught beer range includes Flensburger Pils, Schneider-Weisse, Berliner Kindl Jubiläums Pils, Mönchshof Schwarzbier, and König Pils (4.9%), a pale golden pilsner from a brewery in Duisberg.
There is also a monthly special on draught and about 25 varieties of homemade schnapps dispensed from large bottles above the bar.
Carmerstrasse, 9, Charlottenburg, dicke-wirtin.de
Leuchtturm
The "Lighthouse" is an atmospheric, unspoilt backstreet boozer, aimed at the night-time trade. The interior dates from 1896, but must have been brought in from elsewhere, as the pub has only been here since 1964. But it is practically an art gallery, and an ideal setting for the literary round-table founded here in 1994.
A small back room contains a table-footy machine, which might have been the inspiration behind The Goalkeeper's Fear of the Penalty, one of Berlin-based director Wim Wenders' more famous films. He is said to be a regular.
An excellent draught beer selection includes Jever, Bitburger, Berliner and Hohenthanner Pils, plus the rarer Jever Dark. It's also a good place to drink Warsteiner Premium Verum (4.8%), a pale lemon coloured, smooth, lightly bitter beer with some peppery spice.
Crellestrasse 41, Schöneberg, leuchtturm-kneipe.de
Metzer Eck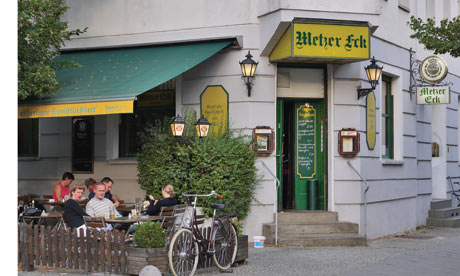 Dating from 1913, Metzer Eck is an family-run East Berlin corner bar renovated to full fin de siècle elegance. A pleasant street terrace is added in summer. Its several small rooms rise up and back from the tiny bar, which the Berliner Zeitung called "probably the best corner pub in the city".
The food menu is strong on soups and stews, with Eisbein (boiled pork knuckle) specials in winter on Friday and Saturday. In addition to the two pilsners the draught beers here include a mystery Hausmarke Schwarzbier (or house black beer), a dark ruby-coloured, smooth, coffee-roast dry stout-like brew with a hint of dry fruit.
For our choice, we plumped for Erdinger Kristall (5.3%), the refreshing but lightish, soft and yeasty-but-filtered Weisse that might even be improved by the addition of a slice of lemon.
Metzer Strasse 33, Prenzlauer Berg, metzer-eck.de
Schillerklause
This snug little actors' bar next door to the Schiller Theatre has all the dramatic memorabilia one would expect, though the pool room at the back is a bit of a surprise. The excellent value Old Berlin Buffet is worth potting too. The bar area allows smokers and sports a wonderful painted mural depicting the beer-fuelled chaos of a major backstage scene change between plays.
To get here, follow the Schiller Strasse signs in the U-Bahnhof and turn right down the street itself when you emerge. Am Schillertheater is the first on the right, after 150m.
There are three sound pilsners—Schultheiss, König and Jever—plus Franziskaner Hefeweisse Hell (5%), a refreshing, partially filtered Bavarian Weisse with so much banana from fermentation that the aroma follows through into almost a banana milkshake flavour.
Am Schillertheater 1, Charlottenburg, schillerklause.de
Willy Bresch
We have no idea who Willy Bresch is or was. He appears to have left no mark on the world except for the pub bearing his name, which is an absolute classic.
An atmospheric, basic local that is, for what it's worth, the author's favourite bar in Berlin.
Above the front door is a wonderful mural depicting old market traders selling flowers and fish. Inside are simple check tablecloths, a wooden floor, old photos of Berlin and a ceramic beer jug collection.
In addition to Berliner Pils and Schultheiss Pils, it serves two excellent beers from the small Hohenthanner brewery in Bavaria, at amazingly low prices. Hohenthanner Dunkel manages to be malty and bitter at the same time, while its Tannen Pils (5%), is a delightfully smooth and balanced lager.
Don't be surprised if the locals start dancing to classic German kitsch muzak—they may invite you to join in!
Danziger Strasse 120 (on the corner with Greifswalder Strasse), Prenzlauer Berg